If you are looking for a permanent solution for damaged, broken, or missing teeth, then dental implants may be right for you. At Graceful Smiles Dentistry, we offer many restorative options for our patients, and are conveniently located in Richmond Texas. One of the most common restorative options is dental implants. Implants are a great option, and are durable and reliable, giving patients that bright white smile they have always wanted.
What Do Dental Implants Look Like?
Implants function like natural teeth, and allow patients to speak and eat normally. They look natural and feel comfortable in the mouth. Once you have implants no one will know you have them because they look that natural.
Implants act as an artificial tooth root similar to a screw that is placed in the jawbone. The implant is made of titanium and provides the base of support for one or more artificial teeth known as crowns.


Benefits of dental implants: 
Implants are permanent and do not slip or click like other restorative options.

 
Implants preserve the natural bone in the mouth and help stimulate new bone growth.

 

Implants can last upwards of 25 years or a lifetime if cared for properly.

 

Dental implants provide long term value financially giving patients a beautiful long lasting smile.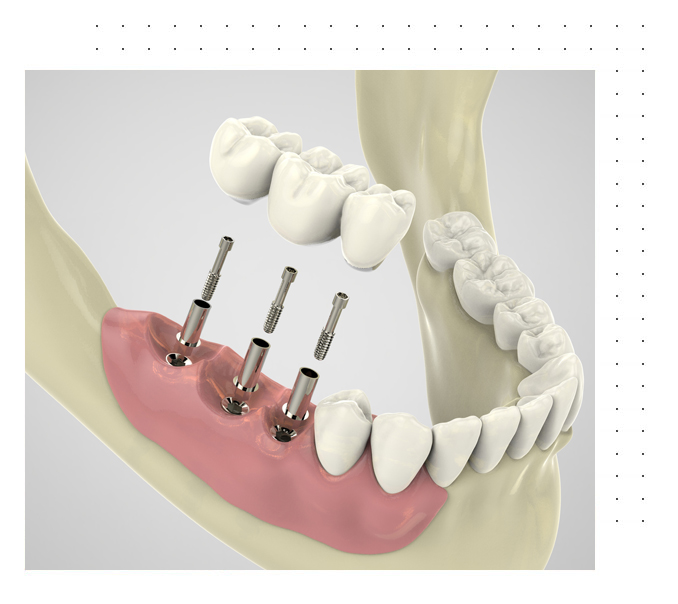 What Should I Expect When Getting Dental Implants?
In order to provide the proper amount of support, the patient must have enough bone in the jaw. Part of our evaluation process will be to determine if you have enough bone present. If needed, bone grafting can be done where synthetic bone is added to the area needed.
With dental implants multiple appointments are required, and there is a healing process involved. The process is called osseointegration, and this is when the bone fuses to the implant that serves as the base for support. This allows the implant to function like a natural tooth.
Once the healing process is complete, an abutment or connector is set on top of the implant, and this holds the implant in place. Custom crowns are made to match the shade and color of your natural teeth. Temporary crowns may be used while we wait for the permanent crowns to be installed.
Contact Graceful Smiles Dentistry
At Graceful Smiles, we provide exceptional dental care for patients of all ages. We take care of our families, and ensure that each appointment is a positive experience for everyone.
If you are interested in scheduling an appointment with Dr. Elsa Mammen, please contact our dental office in Richmond, TX today!